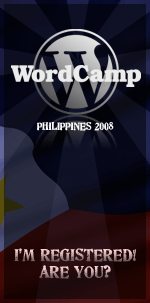 WordCamp Philippines 2008 is coming! And I have classes that day! It was really a tough decision to make, since I could have quizzes on the 6th of September 2008, which is a Saturday. I really can't blame the Mindanao Bloggers who organized the event for the schedule. Besides, I really wanted to thank them for having set the event up. But, since Lexie told me, the hell I care, Matt Mullenweg is coming!
I first heard about this from Shari. She was also planning a meet-up for Web Standards Philippines (a group we set up that has been a little bit neglected for some time because of school), and to finally meet me and Lexie. I do hope WSPh members would participate in this event as well, so as to talk about things, like how we could finally start the group formally. And, most importantly, how we could impart Web standards ideology and advocacy among other bloggers.
So, yeah. I've just registered and this would serve as my fee for the event. In line with this, I present to you the sponsors of the event:
Matt, will you sign my excuse letter?